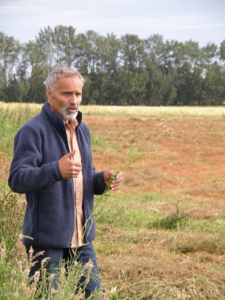 In the spring of 2016 ARECA and Alberta Agriculture and Forestry approached GWFA, with a high legume pasture project.
The idea behind the project is to plant a pasture stand containing a high percentage of alfalfa mixed with sainfoin. The sainfoin contains beneficial tannins that help to offset the effects of bloat in cattle.
Recently Mountain View Sainfoin had been released to the industry. It is a more competitive sainfoin variety than its predecessors and has good establishment potential. In order to help increase the awareness of this sainfoin blend and its potential beneficial effects, ARECA and Alberta Agriculture put together this project.
Currently Mountain View sainfoin is only available in a blend with alfalfa. So, the blended alfalfa/sainfoin was provided to each cooperator in this project to plant on their pasture.
GWFA partnered with Murray Abel for this project. Murray had a 10-acre field he had previously used for grazing corn and decided to convert those acres back to permanent forage. He seeded the trial in May. Unfortunately, last spring was very dry, so the seed had delayed germination. There was considerable weed pressure initially.
Weed pressure is not uncommon in the first year after seeding a forage stand without a cover crop. It is a good reminder to look at the juvenile plants coming below the weed canopy and remember that they will out-compete the weeds in year two and beyond.
After the summer rains the stand did established well and is competing with the other weed species. During the fall, a final walk and plant stand count was done to determine if there were any areas that my need touch-up seeding.